---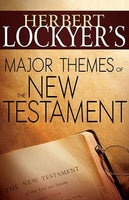 Sale
Unlocking the Truths of Scripture

Best-selling author and legendary Bible teacher Dr. Herbert Lockyer identifies and explains nineteen major themes found in the New Testament.

He explores and examines clearly some of the Bible's most basic doctrines, such as...

The atmosphere of prayer
The teaching of salvation
The wondrous cross
The unfolding of Christ
The unfolding of the Spirit
The second advent
Suffering
The rapture

Whether you are a longtime follower of Jesus or new to the faith, Herbert Lockyer's teachings will bring a fresh perspective to your understanding of the New Testament.

Paperback, 219 pages.


ISBN- 9781603749671