---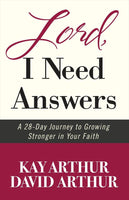 Sale
Does life sometimes leave you feeling overwhelmed, confused, worn out, and empty? Do you want to grow closer to God, but just don't know how?

The good news is God has a plan to give you a more abundant life. More than anything, you can be spiritually strong. This practical study of truths and promises from God's Word will build your spiritual muscles, showing you how to:

Know God better and experience the power of the Holy Spirit
Pray effectively and study the Bible for yourself
Get over your past and resist temptation
Live morally in a sexually saturated society
Experience life to the fullest and face death without fear.

Paperback, 279 pages.


ISBN- 9780736951562