---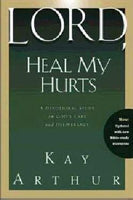 Sale
Enjoy the expanded and updated editions of the best-selling ''Lord'' Bible Study Series from Kay Arthur. The ''Lord'' study series is an insightful, warm-hearted Bible study series designed to meet readers where they are--and help them discover God's answers to their deepest needs.

No Matter How Deep the Wounds, God Can Heal Your Hurts.

Everyone hurts. The pain runs deep, the scars never seem to fade, the memories torment us. As a result, our growth is stunted, our walk crippled, our relationships infected. Will relief never come?

Yes -- when you put yourself in the hands of Jehovah-rapha, the God who heals! No matter what you've done or what's been done to you, He wants to be your refuge. He loves you. And He offers healing for your deepest wounds.

Discover how God can turn your sorrow into joy in Lord, Heal My Hurts. Let Kay Arthur guide you through the Scriptures so you can be set free from past hurts by the power of God. This powerful, insightful study will minister to you in deeply restorative ways. And these are truths you will want to share with others.

''I cannot wait to see what God does as you cry, 'Heal me, O Lord, and I will be healed.' His ear is open to our cry, His mighty arm ready to rescue us, His potter's hands ready to reshape us.'' --Kay Arthur

Paperback, 279 pages.


ISBN- 9781578564408