---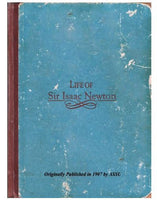 Sale
This timeless classic demonstrating the human brilliance of this most honored of scientists and man of faith is now available again after more than 100 years. His scientific accomplishments form the foundation of many areas of science today,yet you may not know of his incredible belief in God that was at the heart of his search for knowledge. This biography delves into:
·       The era of his birth and his upbringing in the Christian faith
·       His studies and how they led to his world-changing discoveries
·       Lessons taught by his life regarding science and Christianity
From the powerful Attic Books "Life of" Series, that features biographies of heroes of the Faith. Sir Isaac Newton is held in highest esteem by both secular and Christian people, his life and work will inspire every reader.
Hardcover, 208 pages.
ISBN- 9780890517963