---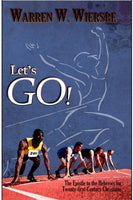 Sale
Does the book of Hebrews seem daunting to you? Let Warren Wiersbe unfold principles from this timeless letter which can turn quitters into conquerors and produce a vibrant, productive faith:

Learn who Jesus is, and what He is doing today
Be encouraged by great heroes of the faith like Abraham, Sarah, Moses, and Joseph
Be warned about careless living
Get an eternal point of view
Encounter the grace of God

As you study the book of Hebrews along with Wiersbe, you will grow in your walk with the Lord, mature in your faith and discover the calling He has for you.

Get ready to go in (Heb. 1-4), go on (Heb. 5-6), go up (Heb. 7-10), and go out (Heb. 11-13)!

Paperback, 98 pages.


ISBN- 9781936143078