---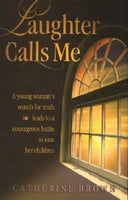 Sale
A young woman's search for truth leads to a courageous battle to save her children.

The true story of a young woman who discovers her children have become victims of child pornography. A compelling and hard-to-put-down book that takes the reader through a twenty-year period in the author's life. From her hitchhiking days in the seventies to being abandoned with four small children to raise, the story then takes a dramatic twist as she discovers what could potentially destroy her family. This crisis forces the young mother to go into hiding with her children to protect them.

Paperback, 159 pages.


ISBN- 9780972151269