---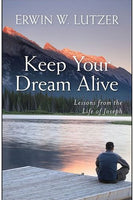 Sale
Everyone has a dream, a desire to accomplish some special purpose in their lifetime. Whether shattered or fulfilled; whether small or large; whether past or present, dreams invite people to live life to its fullest. In these pages, readers will learn about the dreams of a young man who was rejected by his family, betrayed by his brothers, and sent to prison because he was falsely accused of attempted rape.And yet twenty years after his emotional roller coaster began,the dream he had as a teenager was fulfilled.
Through this engaging study of the life of Joseph, one of the most popular and beloved Bible characters, bestselling author Erwin W. Lutzer shows today's Christians how to:
embrace their dream as God-given and faith-filled

 

understand how a dream can be shattered by sin

 

nurture their dream and live it out

 

handle the tests and trials along the way

 
Written with the insightful and inspiring tone that has made Lutzer the bestselling author of more than twenty books, this inspiring resource encourages believers to look to God for guidance and direction to keep their dream alive.
Paperback, 164 pages.
ISBN- 9780825441943