---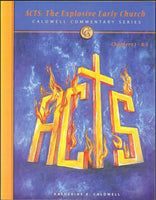 Sale
The 26 lessons in this book are a continued look at Christ's work through His spiritual body, the Church. The lessons for the 21st Century Church are abundant! This is like ''volume 9'' in the Life of Christ series by this author.

The book includes in-depth studies on the Lord's Acts 1:8 Commission, His Ascension, the birth of the Church on Pentecost (see it as never before), Peter's utter transformation as evidenced by his sermons, a recurring ''pattern'' discovered in that first generation Church that has continued throughout her history, the ''sin from within'' of Ananias and Sapphira - and 10 lessons on perhaps the greatest Christian Bible scholar of that day - the amazing Bible apologist named Stephen! The detailed look at the ministry, the message, and the martyrdom of Stephen not only takes the reader on a Christ-centered jet-tour through the Old Testament, but will leave you understanding why this man had such an impact on Saul of Tarsus!''

Paperback, 225 pages.


ISBN- STBC000000200