---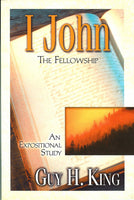 Sale
You are Called to Community. In this chapter-by-chapter study of the First Epistle of John, Guy King takes the word ''fellowship'' as the key to understanding John's message, and unfolds the meaning of the epistle in terms of Life, Light, and Love. ''Whoever embarks upon a sincere nd serious study of this Epistle opens himself to much humbling of heart,'' Pastor King says in his forward. ''Yet that same heart will soon—perhaps on account of its very humbling—find itself enraptured with what it will find here.'' A great book for small groups or Bible study leaders.

A clergyman of the Church of England, Guy H. King was greatly beloved in the parishes he served, and by a much wider circle of evangelical Christians of all denominations. A diligent Bible student, his gift of opening the Word to the person in the pew was greatly appreciated by adults & children at the renowned Keswick Convention. His weekly Bible studies as Christ Church, Beckenham (where he served as vicar for 21 years until his death in 1956), enjoyed a large attendance, including many from other churches. His several books are based these expositions.

Paperback, 174 pages.


ISBN- 9780875086811