---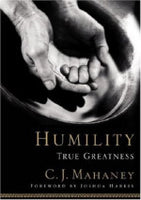 Sale
Be Transformed by Christ's Example

"God opposes the proud but gives grace to the humble." —1 Peter 5:5

A battle rages within every one of us every day. It's the clash between our sense of stubborn self-sufficiency and God's call to recognize that we're really nothing without Him. It's pride versus humility. And it's a fight we can't win without looking repeatedly to Christ and the cross. C. J. Mahaney raises a battle cry to daily, diligently, and deliberately weaken our greatest enemy (pride) and cultivate our greatest friend (humility). His thorough examination clarifies misconceptions, revealing the truth about why God detests pride and turns His active attention to the humble. Because pride is never passive, defeating it demands an intentional attack. The blessing that follows is God's abundant favor.

Hardcover, 174 pages.


ISBN- 9781590523261