---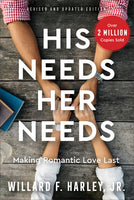 Sale
What will it take to make your marriage sizzle?

Time after time His Needs, Her Needs has topped the charts as the best marriage book available. Because more than any other, this book helps husbands and wives give each other what they need most in marriage.

This anniversary edition celebrates fifteen years of its ever-increasing popularity. The over one million couples who have read His Needs, Her Needs have learned to make their marriages sizzle, and they are recommending it to others. Join those who have seen spectacular changes in their marriages by following Dr. Harley's tried and proven counsel. You will discover that an outstanding marriage can be more than a dream--it can be your reality.

Hardcover, 240 pages.


ISBN- 9780800740993