---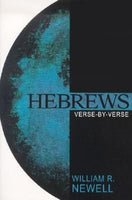 Sale
A scholarly and analytical exposition of the text of Hebrews.

''The object of Hebrews is to set forth Christ...Christ the Son of God, the Son of Man, the Great High Priest in heaven.'' Having identified the focus of his commentary in the foreword, William R. Newell consistently traces the Christological theme throughout the book of Hebrews verse-by-verse. While Newell's method is scholarly and analytical, his exposition of the text is practical and devotional. Helpful comments on both the Greek and English texts illuminate the flow of thought while ample footnotes provide valuable discussions on the historical background and critical context of individual passages.

Also included are eight helpful appendixes, covering subjects such as the teaching of baptisms, the nature of the church, authorship of Hebrews, and the books that follow Hebrews.

Hebrews: Verse by Verse ranks among a handful of truly classic works on this crucial New Testament book.

''The student will find this a helpful volume on the English Text much like Newell's valuable work on Romans.''- Dr. Jim Rosscup

Paperback, 493 pages.


ISBN- 9780825433375