---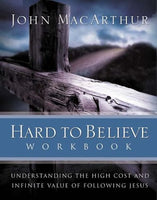 Sale
The popular perception of Jesus Christ is that of a tempered, genteel man who walked the earth, offering nuggets of wisdom to His followers. But what we sometimes fail to recognize is that although Jesus Christ offered a message of forgiveness, He also spoke challenging, demanding words about what being a follower of Christ requires.

"If anyone comes to Me and does not hate his father and mother, wife and children, brothers and sister, yes, and even his own life also, he cannot be My disciple." (Luke 14:26)

In contrast to the superficiality of much modern Bible teaching, Dr. John MacArthur uncovers in this workbook the unvarnished truth of what Christ really taught. In simple, compelling terms, he spells out what is required of those who would follow Him. With provocative questions and exercises, he leads readers to a full understanding of the call of Christ.

Paperback, 169 pages.
ISBN- 9780785263463