---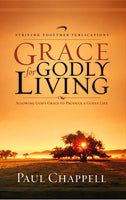 Sale
"Radical grace" teaching has invaded the church!  This new teaching on the grace of God gives the believer a "have it your way" Christianity.  It seems to say, "because of God's grace, you can do what you want, how you want...you have the liberty in Christ."
True grace from God's Word is quite different! True grace teaches us to deny ungodliness and to live soberly and righteously.  True grace will transform us into the image of Christ and compel us toward God and away from sin.
In these pages, you will discover that God's grace at work in your life will not only compel you to live a godly lifestyle, but it will give you a spiritual maturity and humility towards those who do not.
Paperback, 160 pages.
ISBN- 9781598940800