---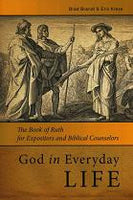 Sale
''The book of Ruth follows upon the dark chapters of Judges like the rising sun. And the Moabitess' radiant example shines ever bright today. How grateful I am that Rick Kress' searching expositions have been coupled with the trenchant analysis and wisdom of Brad Brandt. God in Everyday Life will grace the church both in the pulpit and personal use.''

- R. KENT HUGHES, Senior Pastor Emeritus, College Church in Wheaton
''Unique! That's what it is. A book on counseling from Ruth. Moreover, it's really two books in one, by two authors. Those who look for several commentaries rather than one can begin here with two. There are many helpful ideas in this double-barreled volume. You'll want to get it to find out how to counsel from Ruth—won't you?''
- JAY ADAMS, Founder of NANC, The Institute for Nouthetic Studies, author, and pastor

Paperback, 187 pages.


ISBN- 9780977226252