---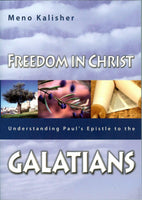 Sale
A verse-by-by verse study of the Epistle to the Galatians
What for?  Because believers in Jesus the world over keep asking the same questions.  For example:
To keep or not to keep?
Are we obliged to keep the Old Testament commandments—what the Bible calls the Law?
If so, does that include all of the commandments or just some?
And what about religious traditions—should we keep them, or shouldn't we, or is that something we shouldn't worry about?
Or do the Old Testament commandments as well as the traditions oblige only Jewish believers in Jesus, i.e. Messianic Jews, while Gentile believers can do as they please?
Did you think that these are questions only modern day Christians have?  Actually, the Galatians struggled with them less than two decades after the birth of the Christian church.
This is why the Apostle Paul had to provide answers, solutions and clear guidelines defining…:
The identity of the believer in Jesus—regardless whether he comes from a Jewish or Gentile background;
The Christian's relationship to the commandments of the Law and to human religious traditions.
This title has grown out of a series of sermons given at Jerusalem Assembly—House of Redemption, Jerusalem, Israel, by Pastor Memo Kalisher.  Throughout it you will find conclusions and summaries that do what should be the aim of any Bible study.
Paperback, 288 pages
ISBN- 9780915540532