---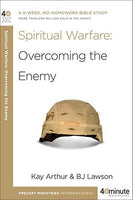 Sale
Whether you realize it or not, you live in the midst of spiritual combat. Your enemy, the devil, is dangerous, destructive, and determined to keep you from effectively serving God. In order to defend yourself against his attacks, you need to know how the enemy operates.

Through this six-week study you will gain a thorough knowledge of the enemy's tactics and schemes. As you discover the truth about Satan—including the limits of his power—you will be equipped to stand firm against his attacks and to develop a strategy for living daily in victory.

40 minutes a week could change your life!

The 40-Minute Bible Studies series from the teaching team at Precepts Ministries International tackles the topics that matter to you. These inductive study guides, designed to be completed in just six 40-minutes lessons with no homework required, help you discover for yourself what God says and how it applies to your life today. With the leader's note and Bible passages included right in the book, each self-contained study is a powerful resource for personal growth and small-group discussion.

Paperback, 65 pages.


ISBN- 9780307729798