---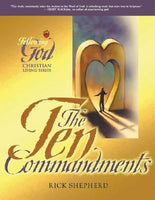 Sale
Do you know anyone who has never broken any of the Ten Commandments? Unless you are thinking of Jesus Christ, you probably can't name a person who has kept every one of these foundational laws. Why did God issue these laws for Israel and mankind if they are so difficult to live up to? What relevance do these laws etched upon ancient tablets have for us today? For Christians living under the security of God's grace, how does the seemingly rigid and arbitrary nature of the Ten Commandments apply?

Author Rick Shepherd provides answers to these questions in his latest addition to the Following God™series: The Ten Commandments. The first lesson of this twelve-week interactive study provides a historical and cultural backdrop of the time the Commandments were issued. Each lesson following takes an in-depth look at each commandment and encourages readers and those involved in group studies to look at the spirit and overarching purpose of each law rather than the arcane letter of each law. The final lesson looks intently at how Jesus Christ is the culmination of the Ten Commandments, the only person capable of being obedient to all ten laws at all times. This final look at Christ's life will solidify reader's views that a surrendered walk with the perfect Savior is the only way to fully understand the Ten Commandment's relevance to the twenty-first century. Readers will come to a refreshing understanding that the laws given to sinful man long ago are still relevant in that they point to the sinless perfection of the Messiah, Jesus Christ, our Savior who can live the spirit of these laws in us and through us.

Workbook, 207 pages.


ISBN- 9780899572987