---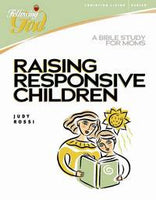 Sale
Raising Responsive Children: A Bible Study for Moms addresses a mother's realities and responsibilities in her parenting. Its purpose is to lead a Christian mom to this truth: God's goal is not to change her children so that they'll do what she wants; it's to change her, so that she'll do what He wants in the lives of her family members.
This twelve-week Following God™ workbook study calls a mom to examine her relationship first with her Heavenly Parent through His Son; to rely on the One Who died for her; to draw from the Holy Spirit who will lead her into all truth, and help her apply that truth to her parenting. Raising Responsive Children will also challenge her to assess her relationship with her husband—how she respects him as a man, a husband, and a father. From participating in this study, she will begin to recalibrate her attitudes where necessary so that her children will learn to understand, respect, and welcome dad's role.
Raising Responsive Children also addresses single moms. It will encourage them to embrace their current circumstance with their Ultimate Father, as well as with their Ultimate Bridegroom.
Paperback, 192 pages.
ISBN- 9780899572383