---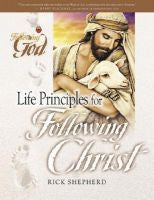 Sale
Life Principles for Following Christ looks at Christ in both the Old and New Testaments and shows how Scripture unveils a portrait of rare value, a picture of God Himself revealing His holiness, His love, His power, and His awesome plans and purposes for man. Each of the twelve lessons shows how God reveals His glory, His perfections, His beauty and strength.

Life Principles for Following Christ does more than present the facts about Christ. It looks at real faith in Christ that trusts Him not only to give us eternal life but also to be our life. Our being conformed to God's image is the Father's desire and will for our lives. Bringing readers closer to God's image is the goal of the study —Life Principles for Following Christ.

The latest release in the Following God line of Bible study and devotional products incorporates all of the application features readers have cherished since the first Following God study was released in 1998.

Lesson 1—Christ The Second Adam: Christ the Creator Fulfilling His Purposes

Lesson 2—Christ The Seed: The Fullness of God's Promised Salvation of Man

Lesson 3—The Angel of the Lord: Christ the Warrior Leading His People

Lesson 4—Christ and the Law: Christ Giving and Fulfilling the LawLesson 5—Christ the True King: Christ Calling us to Follow Him, the King of Kings

Lesson 6—Christ the Prophet: Proclaiming Truth—Leading Us to True Worship

Lesson 7—Christ Our High Priest: Leading Us into True Fellowship with God

Lesson 8—The Son of Man: Christ Following His Father

Lesson 9—Jesus Prayed: The Prayer Life of Jesus Then and Now

Lesson 10—Jesus the Savior: Christ Fulfilling His Mission to Seek and Save the Lost

Lesson 11—Jesus is Lord: Christ Revealing Himself as the I AM, the LORD

Lesson 12—Jesus the Lamb of God: Worshiping the Risen and Reigning Lamb

Workbook, 243 pages.


ISBN- 9780899572581