---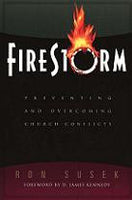 Sale
Foreword by D. James Kennedy.

Conflicts in the church usually progress in six phases. Do you know what they are? Pastor Susek helps you identify each one and provides experienced counsel on how to handle them. He also offers guidance for restoring faith and hope in the aftermath of controversy. Includes a detailed conflict-resolution plan and addresses for pastoral support groups.

Paperback, 252 pages.


ISBN- 9780801090912