---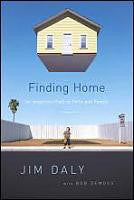 Sale
"I should be insane—or in jail."

Instead, Jim Daly, President and CEO of Focus on the Family managed to rise above his harrowing childhood that began in the Compton suburb of Los Angeles. In this deeply personal memoir, he relives horrors no child should endure. A bloodcurdling neighborhood murder merely serves as the backdrop to the abuse and alcoholism within the four walls of his own home, a cycle broken only by the cancer that leaves him motherless. Orphaned by twelve, he somehow managed to catch enough glimpses of grace that he knew he wanted more, both from himself and from a God he had to believe existed.

Hardcover, 226 pages.


ISBN- 9780781445337