---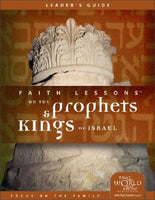 Sale
The completely new Faith Lessons curriculum takes your small group on a round trip to ancient times, places, and customs, and back again. This lively, interactive journey is more than fascinating -- it's faith-inspiring and life-changing. Your job as a group leader is simplified with this all-new Leader's Guide: fresh, clear, and easy to follow, designed to minimize your preparation time and maximize your effectiveness. You are not left to guess at nothing. This volume contains all the material in the Participant's Guide, including maps, photos, sidebars, and other study aides, plus instructions and tips that will take you step-by-step through each faith lesson. Filmed on location in Israel by Focus on the Family Films, Faith Lessons is a unique video series that brings God's Word to life with astounding relevance. By weaving together the Bible's fascinating historical, cultural, religious, and geographical contexts, teacher and historian Ray Vander Laan reveals keen insights into Scripture's significance for modern believers.

These illuminating ''faith lessons'' afford a new understanding of the Bible that will ground your convictions and transform your life.

Paperback, 115 pages.


ISBN- 9780310678571