---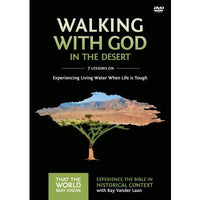 Sale
This seven-session small group Bible study (guide sold separately) by noted teacher and historian, Ray Vander Laan, is volume twelve of the That the World May Know series. Are you going through a difficult period of life? The loss of a loved one? Unemployment? A crisis of faith? During these desert times, it's easy to think God has disappeared. In Walking with God in the Desert you'll discover that it's only when we are totally dependent on him that we find God is closer than ever and can experience his amazing grace and provision.
Faith Lessons is a unique video series that brings God's Word to life with astounding relevance. By weaving together the Bible's fascinating historical, cultural, religious, and geographical contexts, teacher and historian Ray Vander Laan reveals unique insights into the Scriptures' significance for modern believers.
Filmed on location in the Sinai Desert, Wadi Nasb, Judea Wilderness, Mount Sinai, Negev and En Gedi, these illuminating "faith lessons" afford a new understanding of the Bible that will ground your convictions and transform your life. The Faith Lessons video series is ideal for use in small groups, personal and family Bible studies, and adult Sunday school. Individual believers and families will gain vital insights from long-ago times and cultures through this innovative approach to Bible study.
Lessons include:
1. Join the Journey – Filmed in the Sinai Desert
2. It's Hot Here and There's No Way Out – Filmed in Wabi Nasb
3. Help is Here – Filmed in Wadi Nasb
4. When Your Heart Cries Out – Filmed in the Judea Wilderness
5. They Were Not Wandering – Filmed on Mount Sinai
6. Ears to Hear – Filmed in Negev
7. There's Hope in the Desert – Filmed in En Gedi
ISBN- 025986880644