---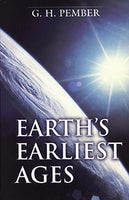 Sale
Foreword by G H Lang - A Study of Genesis 1 to 6, plus an extended discussion of Eastern religions and the occult.

This classic work examines the biblical evidence for a post-creation catastrophe and destruction of the earth and a subsequent recreation. Pember examines the role of demonic forces in the first destruction of the earth under God's judgment and compares them to the rise of spiritualism, Theosophy, and Buddhist thought.

Written in 1876, this revised edition, edited by G.H. Lang (1911), adds explanatory notes, along with a helpful appendix on the identity of the ''sons of God'' in Genesis 3.

Paperback, 332 pages.


ISBN- 9780825435331