---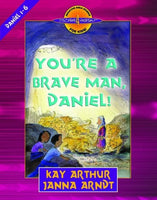 Sale
Scripture quotations taken from the New American Standard Bible

The Cameras are rolling! Max, Molly, and Sam are zooming in on the life of Daniel as they create a television series--with your help! Have a blast as you work on a script, design special effects, and explore scenes from the past and the future. There's plenty of action as you discover:

How to be a Godly hero like Daniel
How to trust God even when bad things happen
How Daniel handled difficult situations (and how you can too)
How God works through people and events
How God Shows us what is going to happen in the future

Best of all, this adventure reveals that you are always in the spotlight of God's love, care and protection.

Paperback, 159 pages.


ISBN- 9780736901475