---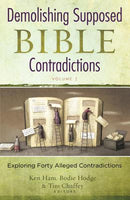 Sale
The Bible is accurate and without error! Demolishing Supposed Bible Contradictions Volume 2 offers 40 powerful explanations to prove it.
There is an increasing focus in our culture on dismissing the Bible and its authority. Generations of skeptics and the religion of evolution have influenced even some Christian leaders.  By highlighting supposed errors or inconsistencies in the Bible, doubt is created in the minds of believers and stumbling blocks are put up for those trying to present the Gospel. But Biblical evidence disproves the toughest of critics while bringing to light the indestructible power of God's Word. Tim Chaffey, Ken Ham, and Bodie Hodge of Answers in Genesis highlight the answers to these debates and more:
Is all Scripture inspired by God, or is some of it the opinion of the writers of Scripture?
After His resurrection, did Jesus first appear to the eleven disciples on a mountain in Galilee or in Jerusalem behind closed doors? 
Can God be tempted?
Why don't Christians follow all the Old Testament laws?

 
Demolishing Supposed Bible Contradictions Volumes 1 and 2 are must-have references for every believer who wants to have an answer to give to those who ask a reason for their hope (1 Peter 3:15). Join the battle armed with the sword of Spirit, the truth that will defeat the lies aimed for this generation and those to follow.
51/2x 81/2 • 176 Pages • Paperback
ISBN- 9780890516492