---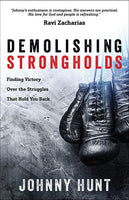 Sale
Have you ever wondered how to be a man of God in the trenches of life—in the day-to-day trials and temptations that hound you? It's not impossible! God's promises and strength are real, and you can claim them today.

Whether you feel beaten down by your past failures or trapped in a corner by your current struggles, let hope lift you up. Pastor Johnny Hunt offers the biblical encouragement and guidance that will help you…

●navigate the dangers and discouragements of daily life
●take practical steps toward taming your negative habits
●use your blessings to influence others for God's glory

Now is the time to learn how to break spiritual strongholds so you can move forward in God's will and become the kind of man you've always wanted to be.

Paperback, 224 pages.


ISBN- 9780736969376