---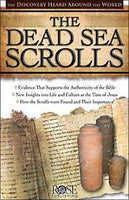 Sale
Dead Sea Scrolls Pamphlet

The Dead Sea Scrolls discovery is one of the most important finds to confirm that the Bible was translated accurately . Many people believe (wrongly) that the Dead Sea Scrolls were the originals of the Bible. They are actually the oldest copies we have of portions of the Old Testament. The pamphlet includes the story of how the scrolls were discovered,and includes maps, time-line, and photos of the caves and scrolls.

AUTHOR: J. Randall Price, Ph.D, author of ''Secrets of the Dead Sea Scrolls'' and ''The Stones Cry Out: What Archaeology Reveals about the Truth of the Bible,'' is the Director of Excavations at the Qumran Plateau and is president of World
of the Bible Ministries, Inc. Dr. Price gives seminars and is often on TV. He is an archaeologist, and is also known for speaking on biblical prophecy.


ISBN- 9781596360440