---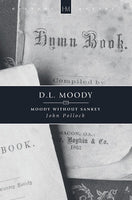 Sale
More than a century after his death D. L. Moody remains a towering figure whose influence of his evangelism is still felt; the institutions he founded in America continue to flourish; his place in history is secure. But it is his personality that commands attention: rugged, delightful, compassionate, a man of total integrity, with a supreme gift for bringing Christianity before a whole range of contemporary hearers and putting them to work for God.

Dwight Lyman Moody (even his wife called him D. L.) was the outstanding evangelist of his time - in his pioneering endeavour and fervour Moody has become an enduring figure of stature and inspiration. He landed at Liverpool, England, unknown and unexpected but when he left Britain -Scotland, Ireland and England were at his feet, he was contagious! John Pollock captures this infectiousness in his classic biography.

Paperback, 349 pages.


ISBN- 9781857921670