---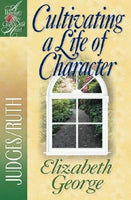 Sale
Judges/Ruth. In the midst of the dark days of the Judges, God faithfully raised up men and women of character to lead his people. Journey through Judges and Ruth and marvel at the godly character of women such as Deborah, Jephthah's daughter, Samson's mother, Naomi, and Ruth—God's woman of excellence. Women seeking God's heart are encouraged to:

See giant–of–the–faith potential in ordinary lives

Cultivate the good qualities of character

Honor God's faithfulness with our own

Paperback, 160 pages.


ISBN- 9780736904988