---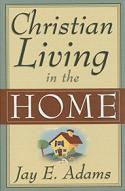 Sale
The family is in trouble today. Stable homes have become a quaint anomaly, rather than the norm. To check the erosion of the home and family as the basic unit of society, Jay Adams calls us to a careful understanding and application of scriptural principles.
Christians will find this volume full of practical, biblical advice on Christ-centered family living, communicating with family members, family guidance and discipline, living with an unbelieving spouse, and many other areas. Pastors, counselors, and study groups will value this work for its insight, clarity, and faithfulness to God's Word. This best-selling title will challenge, encourage, and aid the reader in the development of a truly Christian home. 

Paperback, 143 pages.
ISBN- 9780875520162