---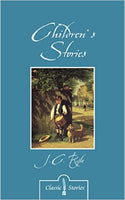 Sale
As the first Bishop of Liverpool, J.C. Ryle was loved and looked up to by the children in his congregation. He took their teaching and spiritual lives very seriously.

Children will enjoy reading these stories, but so will any adult who is involved with children in the home or at church. Ryle's stories open a window on a different era and show how children were taught the truths of the Bible then and still can be today.

Paperback, 141 pages.


ISBN- 9781781915738