---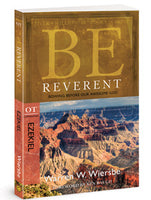 Sale
As good as dead...That's how Albert Einstein described people who can no longer wonder and no longer feel amazement.

A sense of wonder and reverence is basic to life and to faith. God revealed incredible things to the Prophet Ezekiel. He saw God's throne on wheels, moving quickly from place to place! He saw an army of skeletons reassemble and come to life! He saw the glory of God leave the old temple and then return to the new temple!

What the church needs today is a return to reverence -
reverence for God's name and for God's glory.

The neglected Book of Ezekiel will teach you:

• How great and wonderful is the glory of God
• Why reverence for God's name changes our lives
• How and why God judges sin from generation to generation
• Why God sees the land of Israel as ''the center of the earth''
• The wonderful plan God has for the nation of Israel

The Book of Ezekiel is a fascinating book that provides insights on history, theology, and practical Christian living as you behold the wonders of the Lord.

Paperback, 227 pages.


ISBN- 9781434700506