---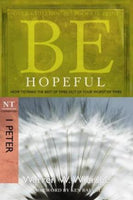 Sale
''Hope is not a sedative; it is a shot of adrenaline, a blood transfusion.'' Through clever word pictures like this, best-selling author and former pastor Warren Wiersbe preaches the same message Peter preached so long ago. Turning each enlightening page, believers gain increasing confidence in true Hope, a God in whom they don't just wish for eternal life. In Scripture, hope means the promise of salvation for those who have accepted Him and His Son's death and resurrection.

Christians who possess this hope and live as though they possess it will learn godly submission, holy living, and harmony with other believers. These qualities will prepare them for what Peter paints in his epistle as inevitable-suffering and persecution. Though Peter is writing to warn a people who would soon be under the tyranny of a heathen Roman emperor, some level of suffering will always be a part of the believers' journey. A time is soon coming when living the ''comfortable'' Christian life will be far more costly than the life willing to give up all.

Paperback, 155 pages.


ISBN- 9781434767431