---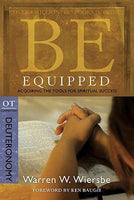 Sale
Are you equipped to face the future?

There are opportunities ahead—and battles. Are you ready?

The truths that Moses shared in Deuteronomy are just what we need today as we face the unknown future:

• How to recognize and use the lessons of the past
• The importance of God's law
• The preeminence of love in the life of liberty
• How God deals with failure
• What it means to share in God's covenant

As Israel's new generation prepared to enter the Promised Land, Moses taught them the basic truths they needed to know in order to defeat the enemy and claim their inheritance. These spiritual principles still work today!

The future is your friend when Jesus Christ is your Lord and the Bible is your guide! Learn from Moses, one of history's greatest teachers, what it means to be an overcomer, able to fulfill the purpose God has for you.

Paperback, 264 pages.


ISBN- 9781434700520