---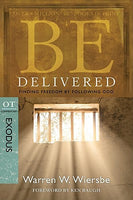 Sale
What is freedom. . . and do you have it?

Is freedom the right to do whatever you want to do, whenever you want to do it? Most people would say, "Yes!" They're wrong! That kind of "freedom" is the worst kind of bondage. It turns life into a prison. You think you're free when you're really a slave—and you can't free yourself.

Real freedom begins with knowing God and enjoying the liberty He alone can give.

In the exciting Book of Exodus, Moses explains how God delivers you from bondage, takes you to Himself, and leads you in a path of responsible freedom. As you study Be Delivered, you will discover:

• What freedom really is and how you can have it
• How God cares for His people and guides them day-by-day
• What real worship is and how to enjoy it

No matter what may be binding you today, you can Be Delivered.

Paperback, 211 pages.


ISBN- 9781434765031