---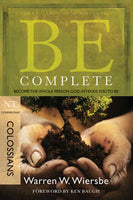 Sale
What Do You Need to Add?

You hear about horoscopes, yoga, transcendental meditation, and a host of other old and new philosophies. Do you need these things? Not if you have Jesus Christ and He is preeminent in your life.

If you're in Jesus Christ, you are complete! Too often today we try to mix manmade philosophies and legalistic rules with the Gospel. The Colossians Christians faced a similar dilemma. But Paul tenderly corrected their erring ways. He warned against the temptation to look for spiritual fulfillment from sources other than God.

As he did with the Colossians, the Apostle Paul calls you to BE COMPLETE in Christ!

Dr. Warren W. Wiersbe is best known as an author, pastor, and radio Bible teacher. He was for many years pastor of Chicago's Moody Memorial Church and most recently served as General Director and Bible teacher for Back to the Bible. He has authored over 100 books, including the New Testament ''BE'' series from Victor Books.

Paperback, 171 pages with personal and group study questions included.


ISBN- 9781434767806