---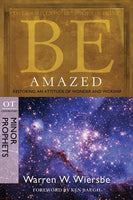 Sale
''To be surprised, to wonder, is to begin to understand.'' Ortega y Gasset

We live in a world filled with artificial marvels, and too many of us have forgotten how to be amazed at what God is saying and doing by His mighty power.

The neglected writers called ''The Minor Prophets'' call us back to a life of amazement and achievement as they remind us of--


God's jealous love (Hosea)
The man who married a prostitute so he could demonstrate the love of God for His people.
God's glorious kingdom (Joel)
The Day of the Lord is coming, and the world stands unprepared!
God's gracious long-suffering (Jonah, Nahum)
Can anybody run away from God? Does God close His eyes when nations sin?
God's righteous judgment (Habakkuk)
Cad calls a wicked nation to punish His own people for their sins!
God's contemptuous people (Malachi)
Are we taking God's blessings for granted? Are we giving the Lord our best?

The messages of these six Minor Prophets point the way to an attitude of wonder and worship that can transform your life.

Paperback, 224 pages with personal and group study questions included.

ISBN- 9781434765055