---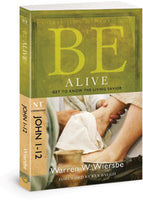 Sale
During the months that I have been studying the Gospel of John and writing this book, I have felt like a man standing on holy ground. The more I studied and wrote, the more inadequate I felt. No wonder the great Greek scholar Dr. A.T. Robertson called the Gospel of John ''the profoundest book in the world.''

There is not space in these studies to plumb the depths, but I have tried to present the basic teachings of this marvelous book. The Gospel of John is simple enough for a child to wade in, but deep enough for the scholar and the most seasoned saint to swim in.

This book is the first of two volumes devoted to the Gospel of John. The second one, focusing on chapters 13-21, will follow.

Please come to this book with the heart and mind of a worshiper. John did not simply write a book; he painted exciting pictures. These pages are filled with images such as the Lamb, the Door, the Shepherd, the new birth, the light and darkness, the Water of Life, bread, blindness, seeds, and dozens more. Use your ''sanctified imagination'' as you study and the Gospel of John will become a new book to you. And, remember, you are not studying a book--you are seeing a Person. ''And we beheld His glory . . . full of grace and truth'' (John 1:14).

Paperback, 168 pages with personal and group study questions included.


ISBN- 9781434767363