---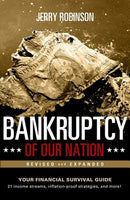 Sale
''It's no secret that the U.S. national debt is in the tens of trillions. But did you know that America also has future unfunded obligations of over $118 trillion? Unfortunately, America's politicians have no plan to solve our mounting fiscal and monetary crisis.

But you don't have to watch this unfold in fear of your financial future. The time for debate is over... It's time to prepare! In this revised and expanded release of Bankruptcy of Our Nation, Jerry Robinson offers you the ultimate financial survival guide.

Paperback, 300 pages.


ISBN- 9780892217137