---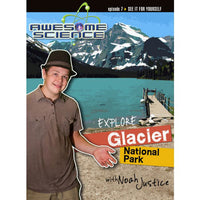 Sale
Discover a place of majestic mountains, alpine lakes, vast meadows, and remnants of once-massive glaciers and snowfields. Travel with Noah Justice to Montana to explore the amazing sites and geology at Glacier National Park. He'll research evidence for this area being created and eroded quickly by the effects of the Flood.

In this episode you'll learn:

The Flood provided just the right mechanisms for an Ice Age
The Bible provides the best answers for the massive worldwide extinctions just several thousand years ago.

This series is produced by Kyle Justice, whose work has appeared on such networks as National Geographic, ESPN, and the Outdoor Channel, along with his creative homeschool-family team. Teen host Noah Justice serves as your guide to truth on the ground at national parks and other geologic locations, bringing you an educational and entertaining adventure!




ISBN- 713438102214