---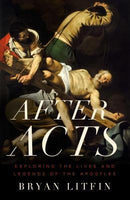 Sale
Have you ever wondered what happened to the biblical characters after Acts? If so, this book is for you. Dr. Bryan Litfin guides you through Scripture and other ancient literature to sift fact from fiction, real life from legend.

Thoroughly researched and clearly written, After Acts is accurate and engaging. Gain insight into the religious milieu of the ancient and medieval church. Learn what really happened to your favorite characters and what you should truly remember them for.

Paperback, 195 pages.


ISBN- 9780802412409