---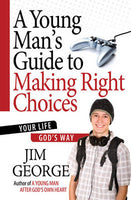 Sale
Guiding a boy toward making right choices will equip him to think carefully about his decisions, assuring a more fulfilling and successful life. 
In this book, Jim George focuses on all the high points of a young man's life—the things that matter most. Teen guys will learn…
 Young men will enjoy Jim's balance of biblical insight, personal anecdotes, and candid forthrightness as the subject matter is addressed.  And they'll gain the skills they need for making right choices in response to all the challenges that come their way.
 Paperback,190 pages.
ISBN- 9780736930253