---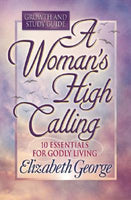 Sale
Women who desire to move onward and upward in their spiritual growth can do so with the help of this growth and study guide that builds upon the principles in Elizabeth's dynamic new book A Woman's High Calling.

Using a quiet time calendar, practical exercises, and thought–provoking study questions, this guide will help readers take the 10 essentials for godly living to a deeper level and discover how they can turn every task into an opportunity to glorify God place God at the center of every thought, word, and activity transform potentially negative situations into positive outcomes This handbook is designed to be used along with A Woman's High Calling.

Paperback, 155 pages.


ISBN- 9780736904940