---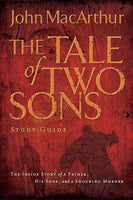 Sale
In The Tale of Two Sons, one of America's most loved Bible teachers takes you deeper into Luke 15 than ever before, revealing insights into the culture of Jesus' day and an unforgettable ending.

The Parable of the Prodigal Son (Luke 15:11-32) has been preached from nearly every pulpit in the world and is known by many who read and cherish the Bible. The story is so powerful because it presents, in clear and inspiring terms, our struggle with sin, the need for humble repentance, and the Father's inexhaustible mercy and love. Unfortunately, many Christians would say that they have nothing new to learn from this gem of Scripture. It has lost its luster. But in The Tale of Two Sons, John MacArthur restores the brilliance of this passage, giving engrossing historical background and unveiling a surprise ending readers have never heard before.

Paperback, 128 pages.


ISBN- 9781418528201