---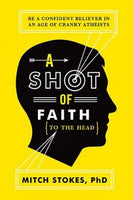 Sale
Secular,skeptical, disillusioned. These are the traits that mark our age—encouraged by outspoken atheists who insist that faith is naïve and belief is dangerous. But what if the atheists are the irrational ones? Can their beliefs withstand the rigorous examination that they demand from others? 
In A Shot of Faith of Faith to the Head, Mitch Stokes, Senior Fellow of Philosophy at New Saint Andrews College, dismantles the claims of skeptics and atheists, while constructing a simple yet solid case for Christian belief. This profound yet accessible book proves the rationality, consistency, and reliability of the Christian approach to science and life.
If you have ever doubted that your beliefs can stand up to scrutiny—if you've ever doubted your beliefs—this book dissolves the questions. For atheists, it is awake-up call. For Christians, it's A Shot of Faith to the Head.
Endorsements:
"A Shot of Faith to the Head is much more than a defense of Christianity; it takes the offensive against the secularist thinking that enamors so many in the West. With the thoroughness of a scholar and the confidence of experience, Mitch Stokes demonstrates the intellectually dubious nature of the so-called "New Atheism" and provides Christians with a much needed handbook for the questions they will surely face once they are outside of the safe confines of their Christian communities. I highly recommend it." —Larry Taunton, founder of the Fixed Point Foundation and author of The Grace Effect
"A fine book: lively, clear, accessible, but also deep, and deeply competent." —Alvin Plantinga, Emeritus Professor of Philosophy at the University of Notre Dame, author of Where the Conflict Really Lies: Science, Religion, and Naturalism, Oxford University Press

"The Bible identifies Jesus as the Word and as the Light, available therefore to the mind as well as the heart. Of all religions, Christianity most invites one to think as well as to believe, and in this troubled time that invitation is still more urgent to take up. Here is a book by a skilled thinker, showing how better to think about faith. It is a worthy task, ably achieved." —Larry P. Arnn, PhD, president, Hillsdale College

"This book is what snarky atheists have coming to them for their dismissive claims and unfounded arrogance. Written not to convince atheists but to help Christians defend themselves and the Christian faith, A Shot of Faith to the Head takes the best tools of top-notch apologetics and philosophy and puts them in the hands of every believer. Even better, it's easy and fun to read, winsome, witty, filled with sharp thinking, and well-researched. As a professor and pastor, I'll be assigning this book in my apologetics courses and would recommend it to every Christian. It displays strategic answers to questions and objections every Christian has encountered." —Justin Holcomb, pastor, Mars Hill Church; executive director of the Resurgence; adjunct professor of theology, Reformed Theological Seminary.
Paperback, 250 pages.
ISBN- 9781595554345