---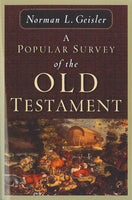 Sale
The world of the Old Testament can seem hard to understand, especially for people living in times and places so far removed from the ancient Middle East. It's not just that we wear different clothes and hold different jobs--people in the West just don't have the same history, the same culture, or the same way of thinking as Old Testament characters like Abraham and David. And this disconnect can make studying the Old Testament an arduous and confusing process. A Popular Survey of the Old Testament is designed to help ordinary people enrich their understanding of Old Testament people and events.

Well-illustrated with color photos, charts, and maps, and written in an easy, informal style, this survey discusses the themes of the various groups of Old Testament books. Here is a solid, evangelical, and uniquely Christ-centered survey.

Two introductory chapters

Christ: The Key to the Inspiration and Canonization of the Bible
Christ: The Key to the Interpretation of the Bible

Lay the groundwork for the study, which is continued in four sections

The Books of the Law: The Foundation for Christ
The Books of History: The Preparation for Christ
The Books of Poetry: The Aspiration for Christ
The Books of Prophecy: The Expectation of Christ

Paperback, 299 pages.


ISBN- 9780801036842