---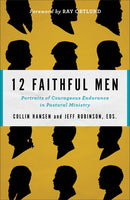 Sale
Most pastors expect they will help others through suffering. They do not always realize, though, that they too will suffer. Caught off guard, many end up deeply hurt and quit the ministry. But church history is filled with stories of men who persevered faithfully through profound and persistent affliction.
Now the editors of The Gospel Coalition have collected inspiring stories of twelve faithful men who endured great suffering for the cause of Christ. Profiling men such as the apostle Paul, John Calvin, Charles Spurgeon, John Bunyan, Wang Ming-Dao, and others, these compelling stories show that suffering in the context of ministry is expected--and never wasted.
Paperback, 187 pages.
ISBN- 9780801077760
Endorsements
''This is a good book. It encourages our souls to know that those greatly used by God often experience seasons of depression, persecution, sorrow, and suffering. It reminds us that God draws near most often when we are down and hurting, not when we are up and prospering.''--Daniel L. Akin, president, Southeastern Baptist Theological Seminary
''Several of the individuals included in this volume were unknown to me before reading the book. But each of them, in his own way, is a Christ-exalting portrait of both the suffering and the joy that God has called us to embrace as pastors. I highly recommend it!''--Sam Storms, lead pastor for preaching and vision, Bridgeway Church, Oklahoma City, OK
''This remarkable book goes ahead in time to gather foretastes of heavenly joy and pours them out in chapter after chapter of clear, compelling testimony. It made me long for our heavenly future and yearn for earthly faithfulness.''--Andrew M. Davis, senior pastor, First Baptist Church, Durham, NC