---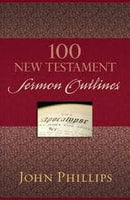 Sale
A clear, concise outline is the cornerstone of a well-developed sermon. That's why hard-working pastors and teachers gather fresh ideas and creative approaches from a variety of sources.
This collection presents 100 sermon outlines by one of today's most popular Bible teachers and conference speakers, John Phillips. Some outlines are short and pithy, others are longer and more detailed, but all of them will help the busy preacher build and deliver powerful, life-changing messages.
Topics include:
The Lord's Baptism
The Rich Fool
Two Lost Sons
The Woman at the Well 
Paperback, 112 pages.
ISBN- 9780825443749